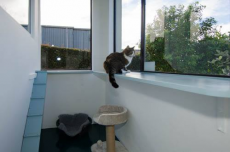 Relax on your holiday knowing your cat is taken care of by qualified experienced nurses and if they have any concern a Veterinarian will immediately be consulted.
We have a cattery downstairs at the clinic. It has individual runs. We can house cats from the same family together. Each run is approximately 1 x 2 m with a climbing area, a smaller cage/hiding hole with a bed. Most of the runs have windows to the outside, with sunlight coming in.
All cats are checked at least twice daily by a qualified veterinary nurse, and with the vets just an arm's length away any unwell cats can be tend to straight away. In the event of an emergency Whangaparaoa Veterinary Centre will try to make contact with you (or an alternative contact person) before initiating treatment.
We often have cats staying in the cattery that have special requirements such as insulin injections or other long term medications.
We require that all cats must be fully vaccinated and to be up to date with flea and worm treatments.
You are welcome to inspect our cattery before making a booking.